Padparadscha sapphires are so popular now among modern brides. And the beauty of these sweet stones are impeccable. Padparadscha sapphires mainly come from Sri Lanka. If you are able to find a quality sapphire stone it's a great investment.
If you want to know more details about padparadscha sapphires please read this article, It will help to find some awesome knowledge for your sapphire journey.
Here we found some beautiful natural padparadscha sapphire rings that look fabulous. Hope you can get some ideas whit these beautiful rings. Let's jump it to our 6 unique padparadscha sapphire rings.
 Vintage Oval padparadscha Sapphire Ring Rose gold.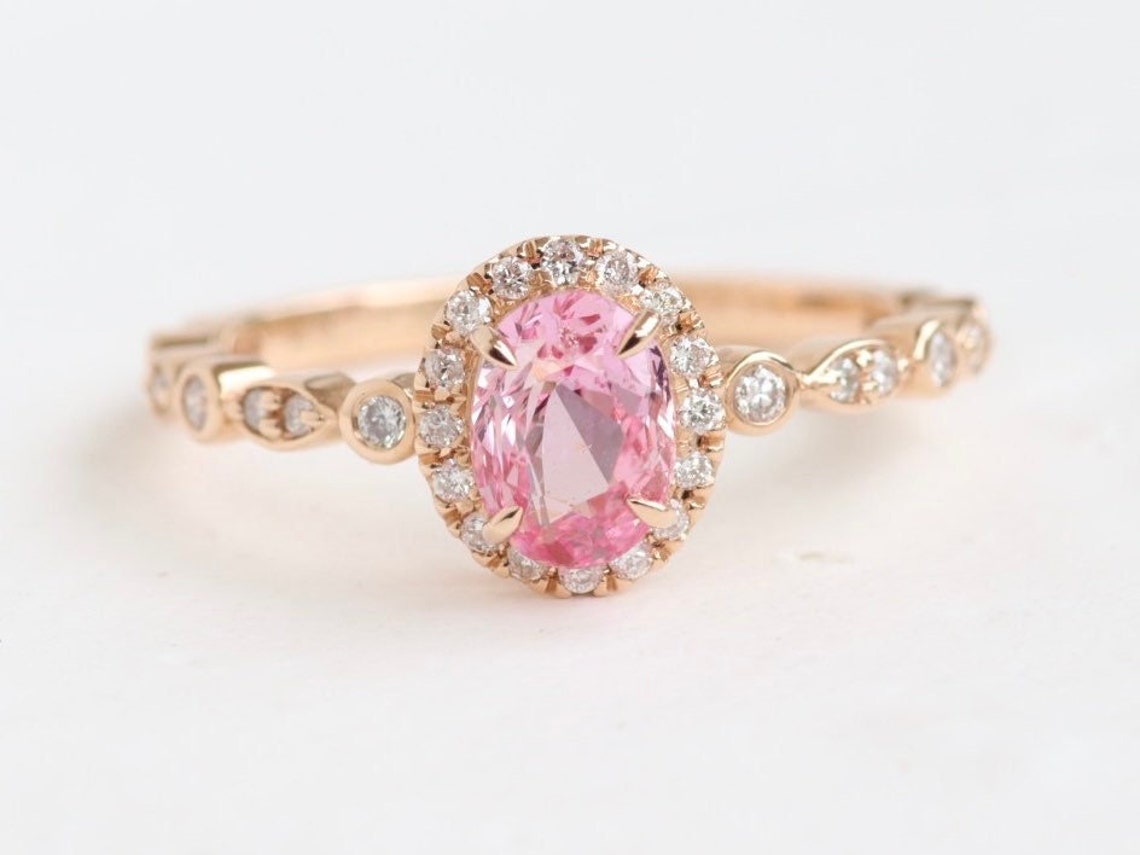 If you looking for a vintage-inspired well-crafted ring, Here is a perfect example for that. This ring features natural Ceylon padparadscha sapphire weight 1.03 carat. It is made with 14k solid rose gold. All diamonds are natural and conflict-free. Diamonds are VS clarity G-H Color. The total diamond weight is 0.21carats. The Center padparadscha sapphire has a perfect cut and color. It has more pinkish color and it's so unique.
You  can check the price of the ring on Etsy
Simple Padparadscha Sapphire Ring 14k Rose Gold.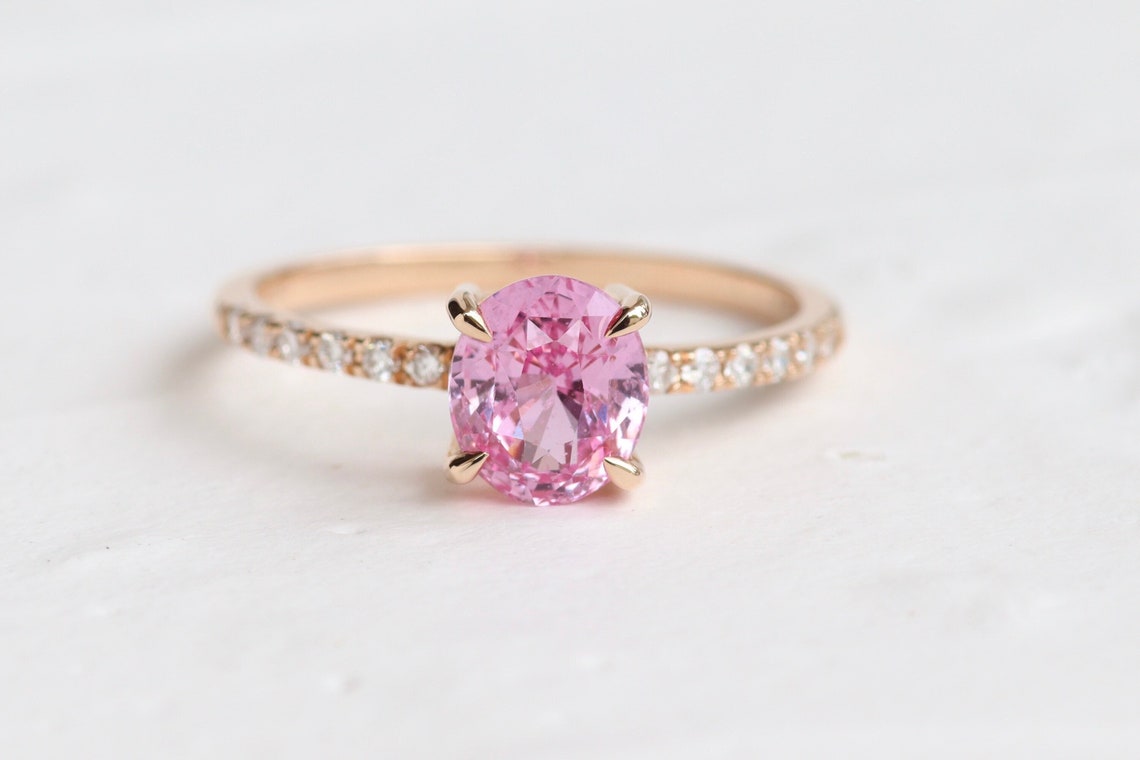 One of unique and simple padparadscha sapphire ring features 1.38 Carat pinkish padparadscha stone. Ston has beautiful sparks and perfect clarity. This one is perfect who looking for a simple and elegant ring. Also it's color has a vibrent pinkish orange. You can see more detials here.
2.57 Carat Ceylon Padparadscha Sapphire Ring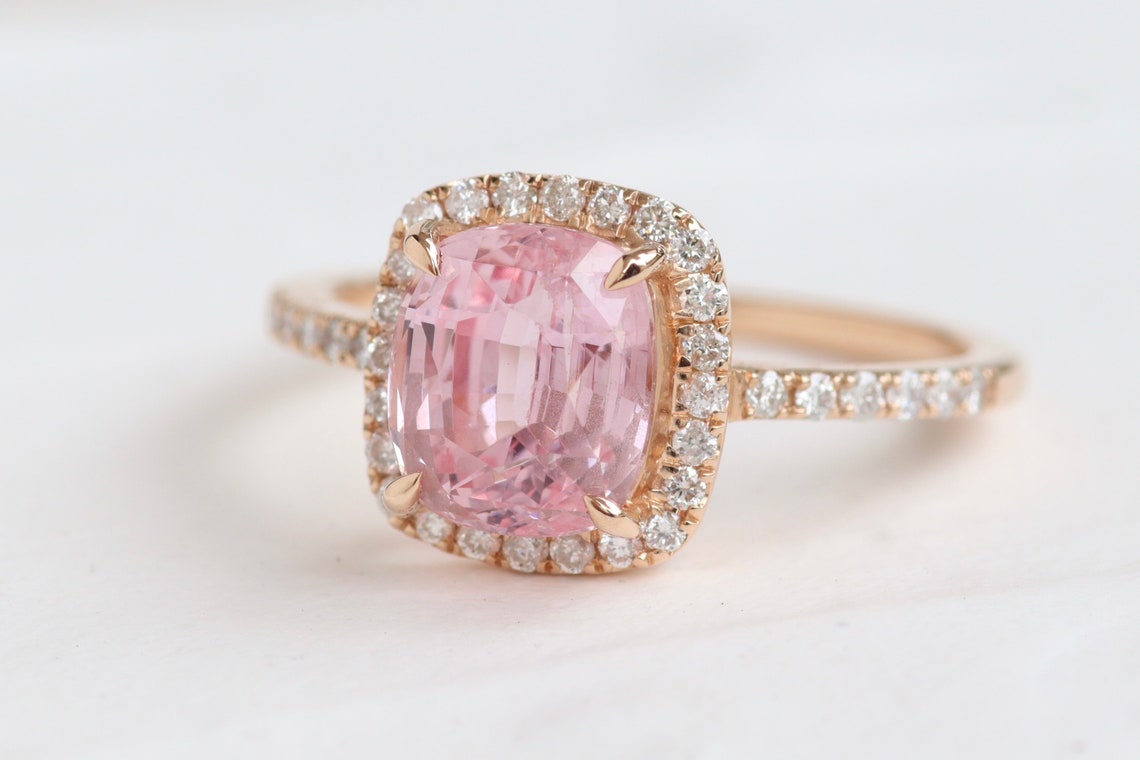 One of most beautiful rare padparadscha sapphire ring features 2.57 Carat Ceylon unheated padparadscha stone. Stone has perfect luster and color. This stone has a good mix of pink and orange color. And center stone is directly come from mines in Sri lanka.
A perfect stunner who looking for a extra ordinary and unique engagementring or wedding ring. for more detials can find here.
Oval Padparadscha Sapphire Ring With Diamonds

This is a classic and evergreen desing in jewellery world. Its so beautiful and simple. Padparadscha sapphire stone is rounded by natural diamonds by adding extra beauty to the center padparadscha stone. Gemstone has a perfect color and the clarity .One of most common desing with unique padparadscha sapphire stone that makes it's so much unique.
You can check more detials on here.
Unique Padparadscha Sapphire Diamond Ring

I am thinking this desing is inspired by princess Diana engagement Ring. But this ring desing is so beautiful with four marquies diamonds  around the center sapphire stone. And of course that twisted band add some extra uniqueness to the ring. Center padparadscha sapphire stone has a good combinations of orangish color and it looks fantastic. If you are looking for a really unique ring desing this one be on your list for sure.
Simple Padparadscha Sapphire Ring with Twisted Band.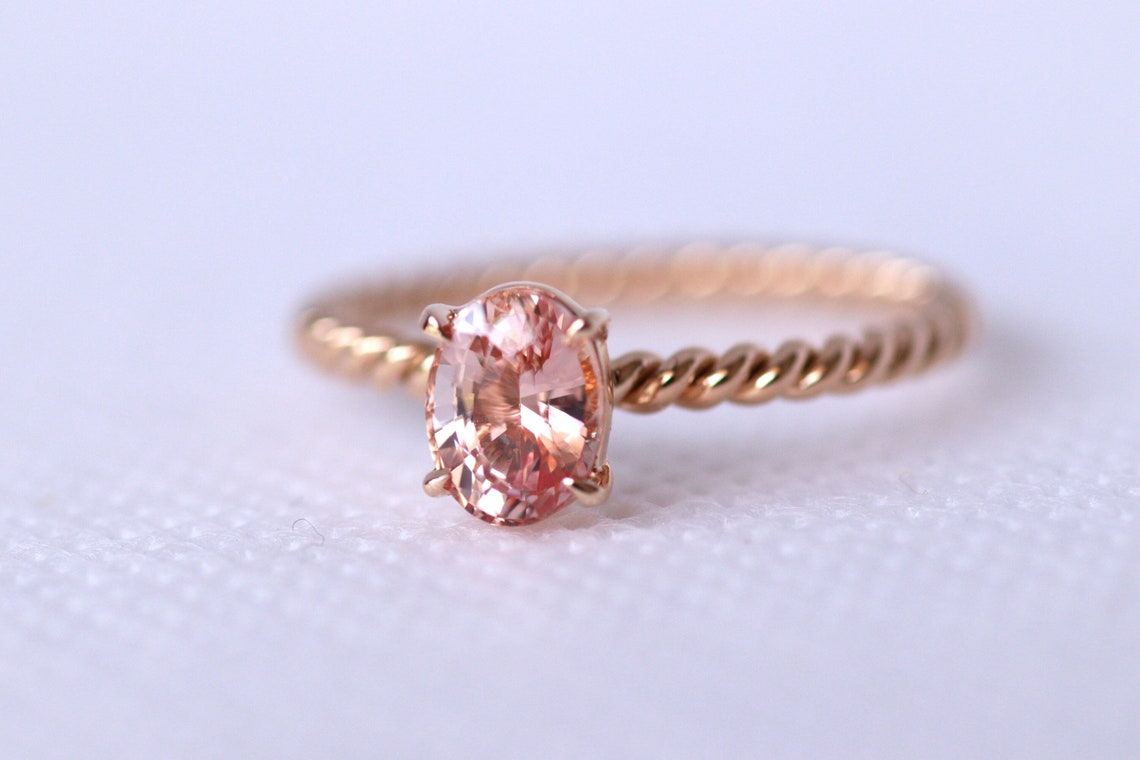 What a simple design with a lot of attraction. I normally don't see twisted bands like this. But how beautiful that band to the design like that. These knife edge prongs hold center padparadscha sapphire and it gives a bold look to the center sapphire stone. Stone is a really beautiful one and comes from Sri Lanka mines at Ratnapura.
Hope you enjoyed the post and took some design ideas from the post. If you like to share this post with your friends it will be a great support for us to keep adding content like this.
Thank you very much!